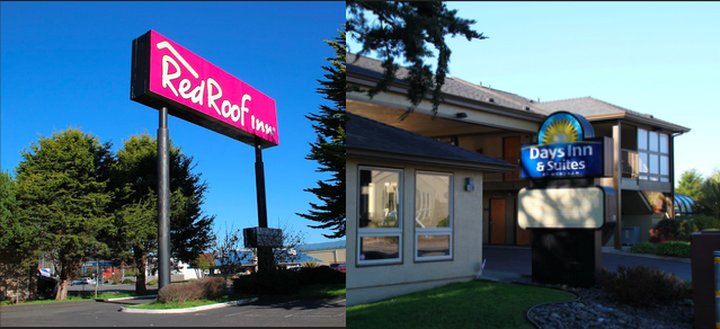 A project that will turn two Valley West hotels — the Red Roof Inn and Days Inn & Suites — into permanent housing for homeless individuals in our community is one step closer to reality, after Arcata City Council voted Wednesday night to conduct the necessary zoning amendment and approve grant and loan applications for funding projects.
The zoning change expands the city's standard homeless housing area — which the city adopted in 2009 to allow for the creation of emergency shelters and homeless housing — to include hotel properties. It also adds language outlining the criteria for the development of Permanent Supportive Housing (PSH), a type of housing that is intended as permanent housing for homeless individuals.
The project is a partnership between City, a local nonprofit Arcata House Partnership (AHP) and developer Danco, and will be funded by a grant money from the Homekey Program — a statewide effort to rapidly expand housing for the homeless. AHP will purchase and convert the Days Inn into 60 apartments for the chronically homeless and Danco will purchase and convert the Red Roof Inn into 78 units for the homeless. With the approval of the council, the city also agreed to give both organizations a loan, which would be repaid from the grant money (at three percent interest).
Several community members spoke during the virtual Zoom meeting on Wednesday. Some were supporting the project because of the homeless community's desperate need for housing opportunities, but many expressed opposition, citing concerns about safety, crime and the potential devaluation of nearby properties.
"This will segregate one of the lowest-income groups in a one-block radius of West Valley," commentator Carol Graham said during the meeting. Graham added that she has not received any notification about the proposed projects, even though she lives within a hotel building.
Project planners held two public awareness meetings on December 1 – one via Zoom and one in Valley West. One community member, Melissa Lazon, said she attended the face-to-face meeting and was "impressed" by feedback from the homeless residents present, saying they wanted to be a more active part of their community and help improve the Valley's western neighborhood with things like a public park and holding community workshops.
"By the way, homeless residents are already in our backyard," Lazon said. "They are already part of our community. Let's give them the dignity they deserve and the services they need to help rebuild their lives. Every Arcata needs affordable housing and this is the beginning."
Chris Dart, president of Danco, and Darlene Spohr, CEO of AHP, spoke during the meeting and attempted to address some of the community's concerns. Dart and Spoor stated that both properties will have 24-hour management and each will have fencing around the perimeter for security and safety purposes. Spohr said the facility wouldn't look like a prison, but rather more like a "gated community."
Spohr added that the Days Inn's pool room will be converted into a community center that can eventually hold events and support group meetings, and that tenants will also have access to medication counseling programs and other support services, with one case manager available for every 10 tenants. She emphasized that the residents of this dwelling would pay 30% of their income as rent (if they had no income they would pay nothing) and that these would be people's homes and not temporary shelters.
"The number of homeless populations is large," Spoor said during the meeting. "We have to act – and fast – before more people die on the streets, before more people are made homeless, and before more people suffer needlessly."
Concerned a little about the Planning Committee's recommendation not to approve the project, Board member Brett Watson moved that the Board continue the conversation at a later meeting, to give the Committee a chance to review. But Watson's movement died for lack of a second. Deputy Mayor Emily Goldstein then moved that the council move forward with the zoning change, and her proposal passed unanimously. The decision to approve both scholarship applications also passed unanimously, with little discussion.
The ordinance that changes the city's zoning code to allow for project development will go back to council for approval on January 5.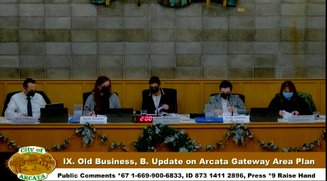 Gate area plan update

In other housing related work, the Council received an update to the City Gate District Plan – a proposal to facilitate the development of high-density housing in the city area including Creamery and its surrounding areas, approximately between K and Q Streets and 17th Street and Samoa Street.
After holding several outreach meetings and walking tours over the past year or so, the city released a draft of the plan earlier this month and encouraged the public to review the plan and provide questions and comments to the city. David Loya, director of community development for Arcata, began by outlining some of the frequently asked questions on the board.
Public questions included concerns about whether the project was in a tsunami zone (it's not), whether it would be affected by sea level rise (it shouldn't), and whether businesses and residences would have to evacuate (they wouldn't).
Loya said that while no one is being forced to evict, the city plans to incentivize some businesses to relocate, so that their properties can be converted into housing, especially businesses that take up a lot of space, but don't employ many people. One example of this type of business is storage facilities – such as Bud's Mini-Storage on Fifth Street and K Street, which occupy an entire apartment block in the city.

Another big concern surrounding this plan is parking, Loya said, referring to the issue as one "you can't win, no matter what you do." Loya made it clear that this particular plan doesn't focus on parking, because the city is trying to dissuade people from driving.
"This plan has an ambitious goal of transitioning toward a car-free lifestyle," Loya said. "Move toward a car-free neighborhood – a place where you can walk, work and live in the same space. This plan is designed to mitigate the importance of parking and encourage other forms of transportation."
Of course, parking was mentioned by many members of the community during the public comment period – during which more than two dozen people spoke – as well as possible building heights. Although there are no height restrictions so far, the city has reported allowing up to eight floors, something many members of the community said they do not support.
Several community members also expressed their support for the project, emphasizing the need for housing in Arcata, and stating that filling would be the best approach to creating the amount of housing we need.
Rob Holmlund—former community development manager for the City of Eureka and master planner for Planwest Partners Inc., which prepared the gateway plan—made a presentation after the Loya. He outlined some of the major components of the plan and why this Arcata area is so desirable for housing, including walking distance from the city center and its proximity to many notable businesses. Echoing Loya, Holmlund noted that the neighborhood has many potentially underutilized commercial properties, such as large storage and warehouse facilities owned by companies like Wing Inflatables. Some of these companies may be required to move, or they can consolidate their operations to use fewer buildings or parts of their property.
Holmlund also mentioned at the beginning of his presentation that he feels that people's attitudes and expectations about housing may need to change. He said a lot of people say they support more housing, but then add that they don't want the developments to be too dense, they don't want it to be more than four stories, they want spacious parking and they don't want it. Want to influence society.
"What I came to hear when I heard was that 'I want a magical dwelling that has no traces, that no one can see and that does not change anything in my community,'" Holmlund joked. "And what people are really asking for is a magical flying unicorn. It's a really cool dream, but you can't have both the sedative you want and no effects of any kind whatsoever."
If you have concerns about the gateway area plan, there is still time to send in your comments and there will be many other opportunities to learn more. You can review the draft plan here and email your comments or questions to comdev@cityofarcata.org.

###
Previously: