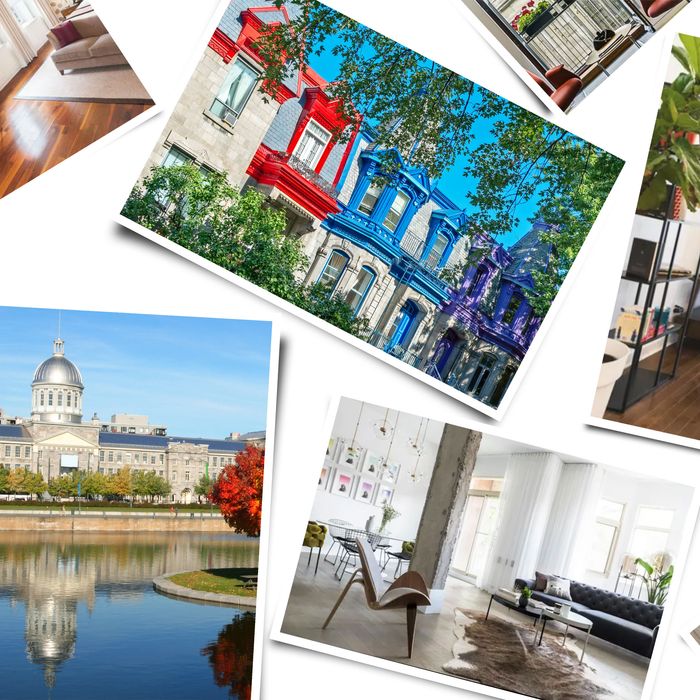 Photo-Illustration: The Strategist; Photos:Getty/Courtesy
For many North Americans, Montréal is the easiest way to take a Europe vacation without actually going transatlantic. Be it the Québecois French language or the widely encouraged 5 p.m start time to happy hour, Montréal feels like a little French outpost in Canada. But that doesn't make it a carbon copy. Montréal also has plenty of its own idiosyncrasies: Mont Royal, a literal mountain in the city center; DJs playing underground beneath 500-year-old archways; Habitat 67, a Brutalist Moshe Safdie building from the 1967 World Expo; the Canadiens hockey team, beloved by seemingly everyone in town; plus steamed hot dogs, honey-boiled bagels, and, of course, poutine. Montréal is also exceptionally walkable — at least in the spring and summer. For those going from mid-December to February, just know you'll need a parka and snow boots.
There are a few neighborhoods to keep in mind when booking a stay. To get a sense of historic Québec, Vieux Montréal is a cobblestone area dense with architectural landmarks (and other tourists). Another historic option is nearby Le Plateau, where the main streets (Rue St Laurent and Mont Royal) are home to Francophone restaurants and French-speaking locals. Griffintown and Little Burgundy have more English speakers and are increasingly popular with thirty-somethings living in new high rise apartments. And for younger crowds, coffee shops, funky bars, and all-night DJs, head to Mile End. To find out where to stay in any of these neighborhoods, we surveyed 20 cool people who told us about the best castle-like hotels, brownstones-for-rent, and hostels for fast-friending.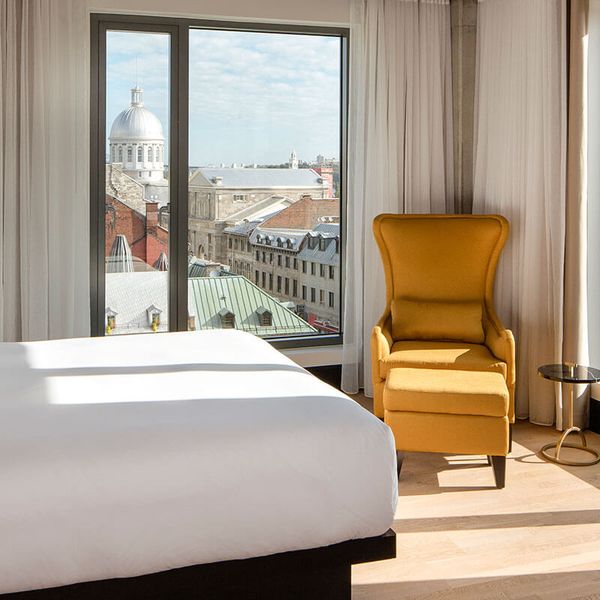 By far the most popular recommendation with eight people suggesting it, the William Gray Hotel is next to Place Jacques Cartier and the Notre-Dame Basilica in Old Montréal, and overlooks the St. Lawrence River — all sightseeing staples for first-timers. Etana Solomon, an analyst at Mastercard's sustainable research arm, stayed there for New Year's Eve in 2020 and says the views are so good that she watched the fireworks over the Old Port from her room. She also likes the mix of downstairs amenities: a lobby filled with old leather chairs, a vinyl collection in the hotel's center, a pool table, and a glass Scotch trophy case, next to a streetwear boutique called Off The Hook and the bakery Café Olimpico. Plus, next door is one of the city's most popular speakeasies, The Coldroom. "It's one of those places that both your grandpa and your Gen-Z sister visiting from undergrad would like," she says. Canadian singer Betta Lemme calls the William Gray a "moodier yet charming" hotel and particularly enjoys the hotel's rooftop view of Montréal's Marché Bonsecours — a boutique mall that was a farmer's market until the 1960s and, before that, a theater for the likes of Charles Dickens. "You're smack in the middle of the most romantic area of Montreal," she says, adding that "it feels as though you've been dropped in a tiny port town in Europe."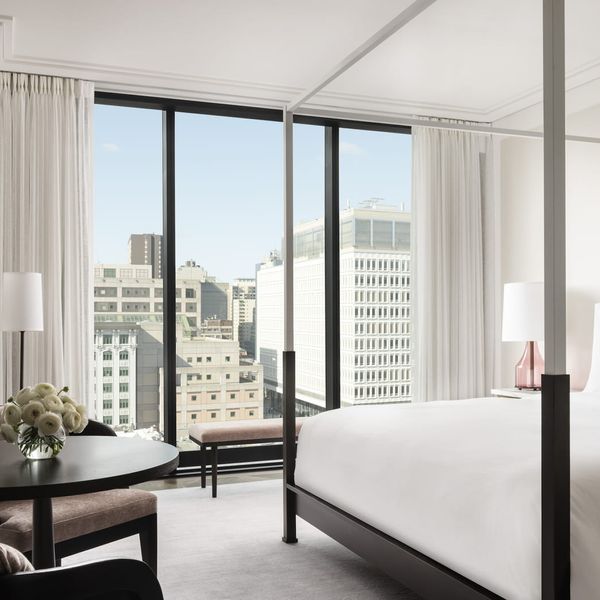 "I have three words for you: Four. Seasons. Montreal." When Collective Design Fair's founder Steven Learner proposed to his wife over Christmas 2019, he did it here. For Learner, Montréal's spin on the hotel brand "showcases a great mix of local talent and New York flair" such as "the minimalist glass and stone furniture from local wunderkind Claste Collection," also noting that Marcus Samuelsson and Montreal design firm Zébulon Perron teamed up on the in-house restaurant. Lemme is one of three other people who said about the same thing as Learner: "This Four Seasons is a vacation for the eyes," she says, pointing out the deep bathtubs, gold accents, infinity mirrors, and velvet and green marble.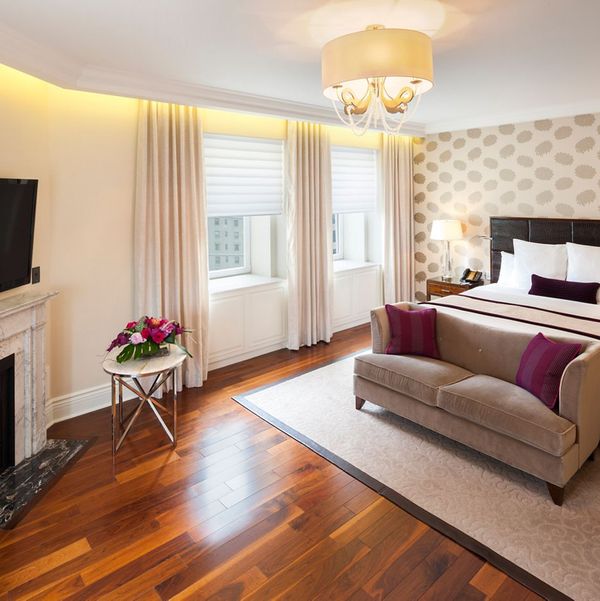 Three people surveyed recommended the Ritz Carlton, pointing out that the Montréal property has its own flavor. According to Francis Guindon, who runs marketing for the local outerwear brand Quartz Co (which recently acquired the Want Les Essentiels accessory line), it has status in the city partly because it was the first Ritz Carlton to open in North America, in 1912. (Fun fact: Liz Taylor and Richard Burton got married here in 1964.) "High tea with scones at The Palm Court and brunch on the terrasse of Maison Boulud are a must," says Guindon, who lives in town but sometimes takes a staycation at the Ritz. For La Presse columniste Martine St Victor, the Ritz's "crisp and clean" room spray is a big selling point; that, and that travelers can get an in-room COVID-19 test, which St. Victor says is "emblematic of the type of attention the hotel gives its guests." Besides the opulent dining options, the Ritz also has an on-site spa (offering things like nail treatments and maple sugar massages) and a Dom Perignon bar that is one of the very few North American bars to serve Dom by the glass. "It's the best place to go for a fancy experience," says Guindon.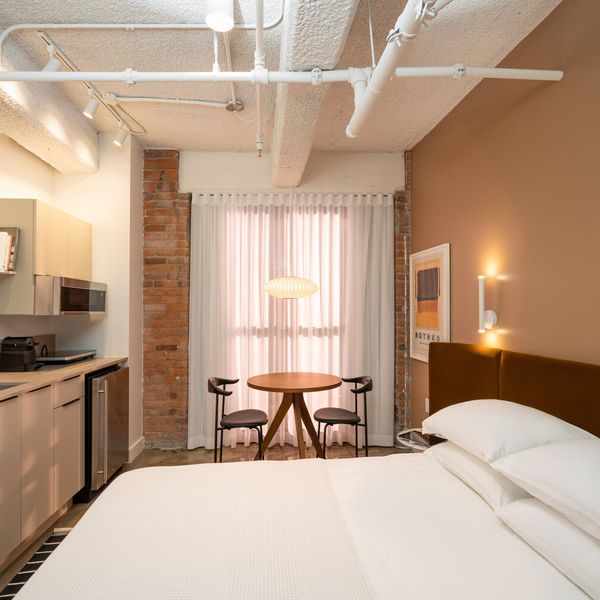 "We always tuck in for the night in the Old Port," says Sara Mae Zandi, founder of Brushland Eating House in Bovina, New York. Zandi is a long-time visitor to the city, and likes that this boutique hotel — which offers contactless check-ins — sits on a "romantic and well-appointed" street in Old Montréal. The rooms have a minimalist, Scandinavian design ethos combined with high ceilings, mid-century furniture, concrete floors, and modern showers. Zandi prefers staying in the suites with kitchenettes, so she can make coffee and eggs and "take a slow morning."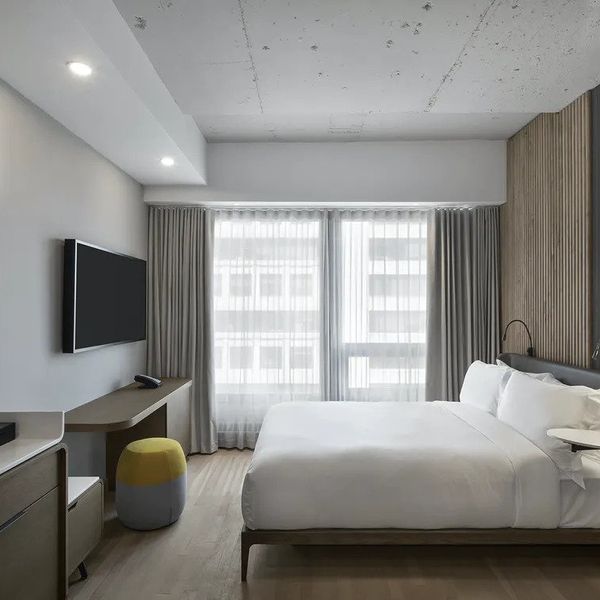 Le Germain underwent a redesign before the pandemic, has a popular Québecois gastropub downstairs, and bubble-swing chairs in its rooms. St Victor recommends Le Germain for all those reasons, but one other in particular: The sheets. For years guests raved and clamored after the hotel's sheets, a 330-thread count mix of Egyptian cotton and bamboo, to the point where Le Germain partnered with the department store Simons on an entire bedding collection that even includes pajamas.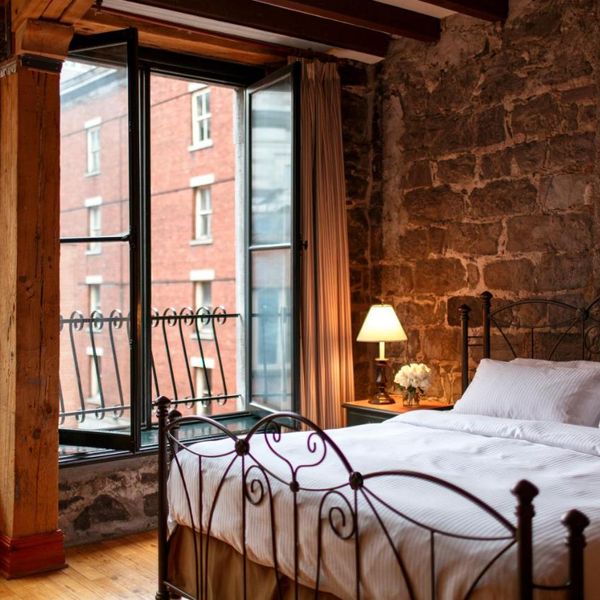 A renovated warehouse from the mid-1800s, Old Montréal's Auberge du Vieux-Port has what Artnoir art collective founder Nadia Nascimento calls "old world charm." Likewise, Katie Cion — a civil-rights lawyer from Washington, D.C., who celebrated her anniversary here — says the combination of cobblestone streets overlooking the river "feels very Parisian." New York gallery owner Hannah Traore stayed here after attending Osheaga, a Montréal summer musical festival, and said "its high ceilings and gray stone walls made me feel like I was staying in a castle." Besides the evocative setting, Auberge du Vieux-Port gets recommended for its food and beverage amenities: Those who go in the dead of winter, like Cion and her partner did, will be happy to find hot chocolate in the lobby; Traore says she loves the duck confit poutine at the neighboring Tavern Gaspard. "If you're going to get a Montréal staple, you might as well dress it up and make it duck," she says.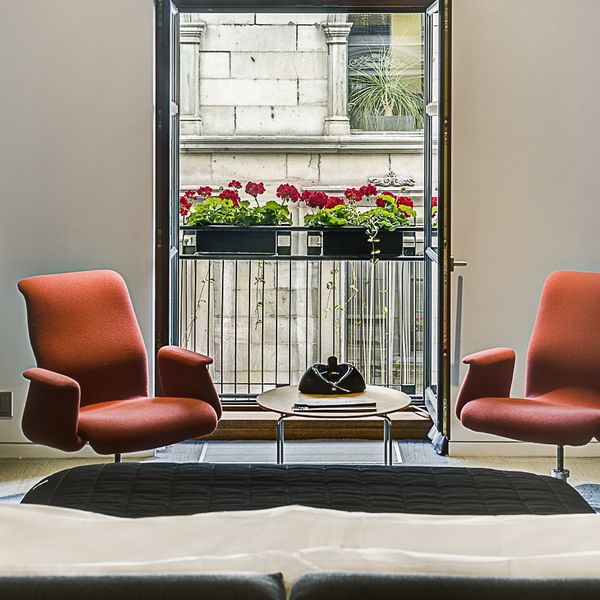 St Victor was one of three people to suggest staying at Hotel Gault, a "hidden gem" in Old Montréal with French windows and terraces. The décor has a lot of bold reds and black-and-white photos of musicians on the walls that give the hotel a funky feel ("Perfect for a Kraftwerk video," St Victor says), even though it's ideally suited to those on a work trip. Le Gault offers four room categories (lofts, suites, terraces, and apartments) all of which feel a tad more like a home than a hotel. "Le Gault has touches that make you feel like you own the place, like large closets, local magazines on the coffee table, and flowers on the terrasse. No bells, no whistles, no bling." The rooms also combine practical elements like cabinets and a desk with a freestanding tub — perfect for anyone looking for a place to work and then unwind.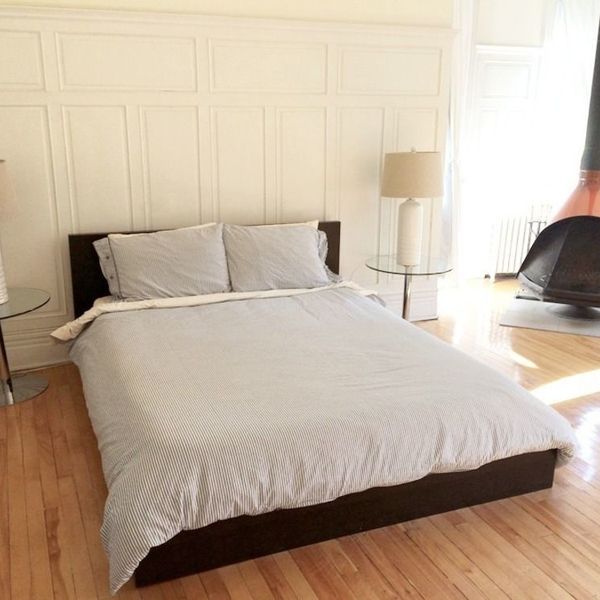 "I love pointing people here," says New York pastry chef Natasha Li Pickowicz, "because it's perfectly situated halfway between the Mile End in the northeast and Downtown." Nestled in Le Plateau, the building is late 19th-century French Renaissance Revival — like a "chic mansion completely covered in these giant gleaming white terracotta tiles and with an extremely discreet vibe." The rooms themselves are ornate but minimalist: Think tall bay windows with little more than a bed and chaise lounge next to sleek, wood-burning stoves. She often books rooms for her parents, who allegedly love the cozy French breakfast they provide in the mornings. For Nascimento, Casa Bianca is a "true work of art, with a 1970s chalet fireplace in every room that has very après-ski vibes." When Nascimento crashed a friend's stay a few years ago, she particularly enjoyed being so close to the park while having "a sweet breakfast on the patio in the friendliest little nook."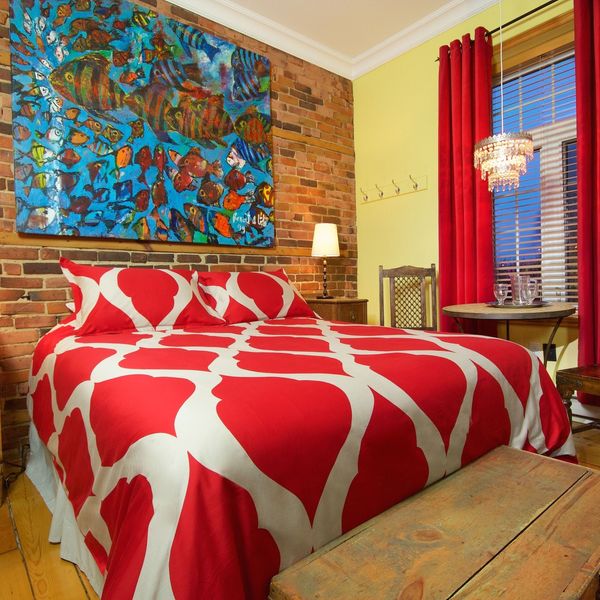 Zach Pollakoff, music producer and co-founder of Likeminds (a creative conference–summer camp hybrid), suggests this bed and breakfast for anyone who wants an entire row house to themselves. The entire property includes three brownstones tucked away in the city center, Ville Marie. For Pollakoff, the stay itself was "entirely unexpected" because it was "just out of sight, but close to everything," nestled between Old Montréal (a tourist center) and Downtown (a late-night hub). Its rooms are a mix of old and modern: tiled, old-school jacuzzi bathtubs and fireplaces; walls painted bright green, yellow, and periwinkle. (One notable quirk: Each room has artwork featuring figures holding hands in a circle, all from the owner's brother's private collection.)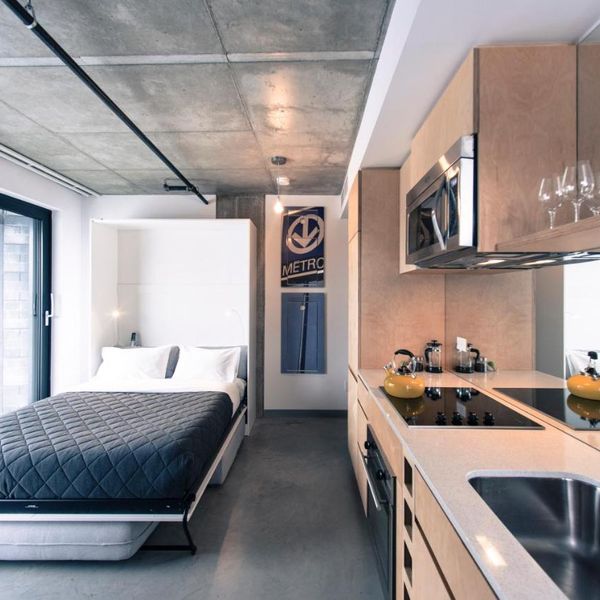 Photographer and New York Times contributor Dolly Faibyshev decided to skip "the fancier hotels in Old Montreal" and chose Boxotel for its overall accessibility in design and price. "It's a cool, economically designed, unpretentious hotel," Faibyshev says, noting that it does, however, have heated floors. Faibyshev is one of three people who recommend this property, which sits in the heart of Montréal's entertainment district, the Quartier de Spectacles. It's surrounded by cobblestoned streets, quirky restaurants, and the Montreal Museum of Fine Arts. (Faibyshev went to see the Thierry Mugler fashion exhibit in 2019.) "We came by car and brought our bikes," she says, "and it was the perfect home base."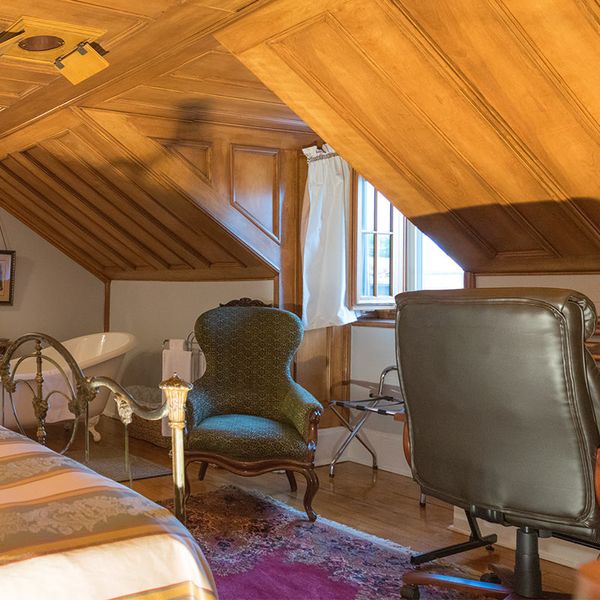 Zoë Desborough, who runs a BIPOC- and LGBTQ-inclusive crochet shop in the Verdun neighborhood of Montréal highly recommends this Latin Quarter bed and breakfast, for those into Victorian-era ephemera or Royals-related anything. The rooms are decorated with nude period paintings and include copper baths and elegant, wooden vanities, and Desborough says it's an "excellent spot for an overnight stop" because of its proximity to Downtown, which is the "core for all nightlife." Plus, the hotel is just next to the Underground City — an interconnected web of tunnels featuring restaurants, shops, and offices — which Desborough says "makes traveling during bad weather a breeze."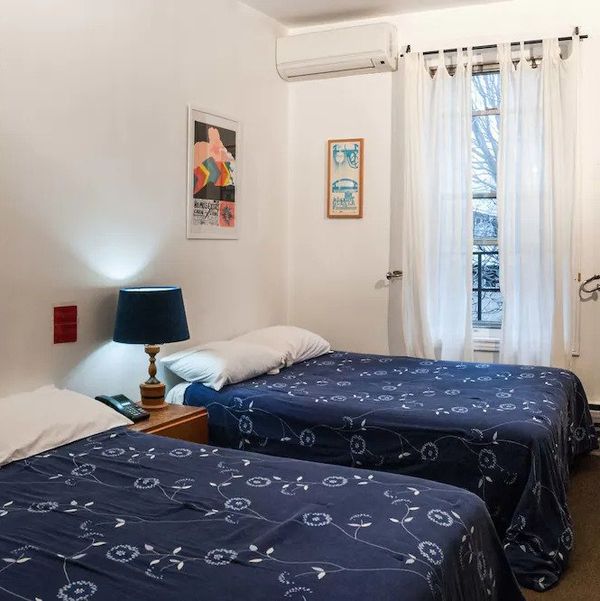 For those less concerned with bedroom décor and more interested in meeting the locals, Pickowicz recommends this simple guest house in the heart of Mile End. "It's right above my favorite music venue and hangout in Montréal, Casa del Popolo," she says, "and its larger sister venue, Sala Rossa, is across the street." Both venues host an array of eccentric, emerging indie singer-songwriters, from a tribute band for saxophonist Thomas Chapin to Carribean record band Canicule Tropicale. The accommodations are fairly basic (chintzy comforters, random artwork), but Pickowicz says it's an "extension of the community" and calls the location "unbeatable."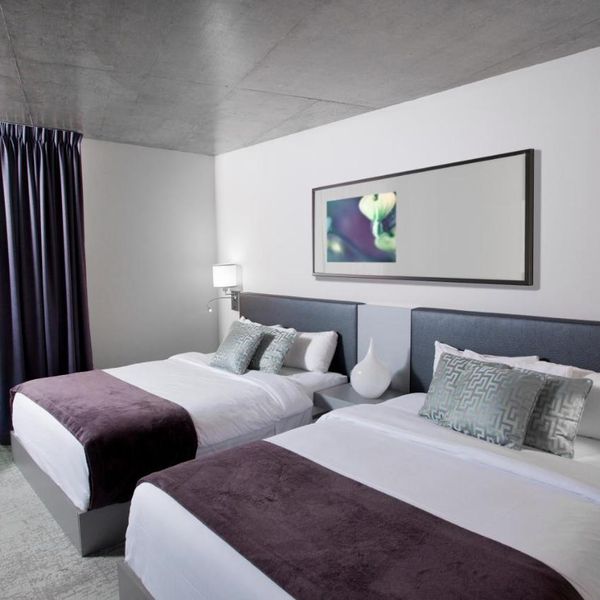 Literary agent (and McGill University alum) Eliza Wheeler loves Hotel 10 for its proximity to Downtown and St Laurent, "which has the best vintage and late night bars." The rooms aren't over-decorated or anything fancy (Wheeler calls them "bright and trendy"), but the attached Vegas-esque night club, Blvd 44, and late-night bites at noodle stand Chez Mein (which serves $2 chow mein after 2 a.m.) are all great for those wanting to experience Montréal nightlife. "It's a really late city," she adds, "some bars don't even open until midnight and go until 5 or 6 a.m."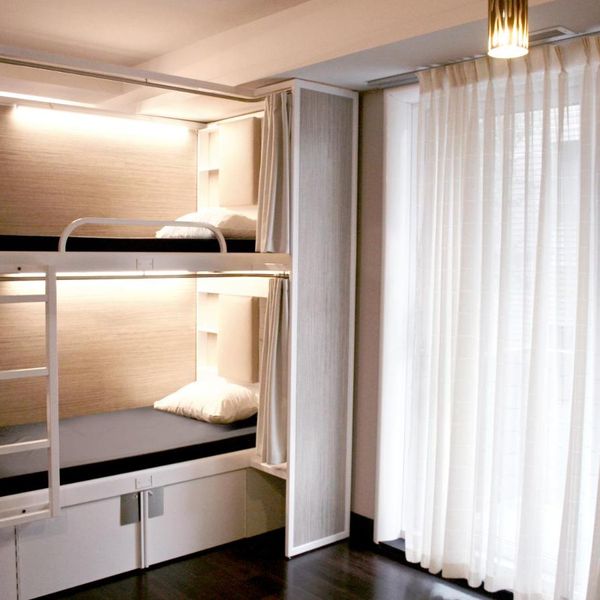 Furniture designer Nicholas Devlin recommends this half-hostel, half-hotel chain for "fellow artists looking for a budget stay." With two rooftop hot tubs, a sports bar scene downstairs, and a choice of bunk beds or private one-bedrooms with kitchenettes, M Montréal is a fun hodge-podge for those looking to find community. Devlin recently stayed at the M with friends, saying he likes how the Gay Village neighborhood is sprinked with "fun kink stores and queer bars," and because it's accessible by bike to the Canadian Centre for Architecture (where he saw a show that he says still informs some of his work) and various pop-ups and boutiques — the last time he was there, the nearby street Sainte-Catherine was completely closed to cars and featured a massive sidewalk sale.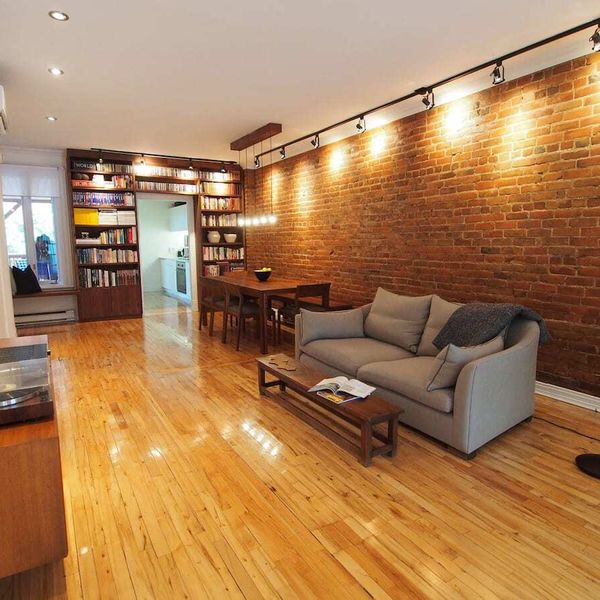 Just last month, photographer Julie Goldstone stayed in this one-bedroom apartment with arched bookshelves and an outdoor patio in Plateau, on the younger, trendier side of Mont Royal. "It was fancy everything," Goldstone says, noting that the host welcomed her upon arrival to give a tour and stocked the apartment with amenities like Diptyque candles, Aesop shampoos, and loose leaf teas. Goldstone said she chose Le Plateau specifically for its bounty of cafés, boutiques, and restaurants, and particularly likes the chocolate pastries at the famous pâtisserie Au Kouign Aman, the "bomb" coffee and sparkling ginger lemonade beverage at Paquebot, and the clothing at Station Service, all of which are within walking distance. Even with those businesses nearby, Goldstone says the apartment is on a surprisingly quiet corner. "With the drapes closed, it almost felt like I wasn't in a city."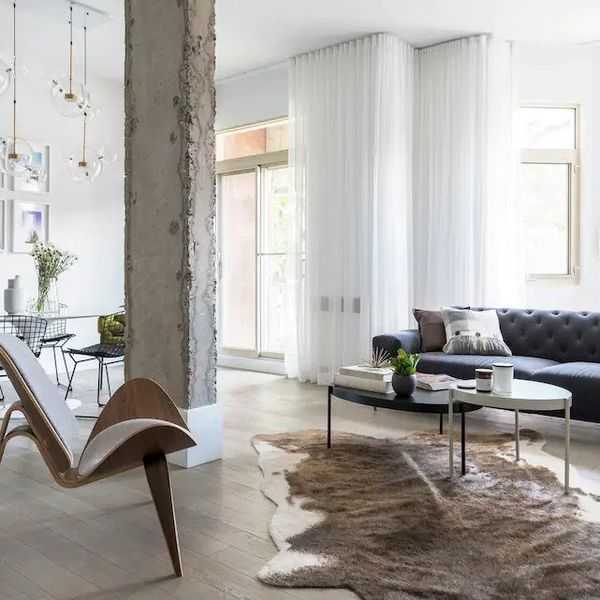 Sarah Parniak, a senior manager at non-alcoholic spirits line Seedlip, says this large apartment blew away her expectations on a trip a few years ago. Upon arrival, the host had left an array of espresso pods and a loaf of freshly baked local bread, and a stack of coffee-table books kept Parniak entertained each night. The two-bedroom apartment has two-and-a-half bathrooms, making it an easy share for a group — especially during continued work-remote life. And the bedrooms are comfortable: "I still dream about the snowy, supremely cozy king-size bed," Parniak says.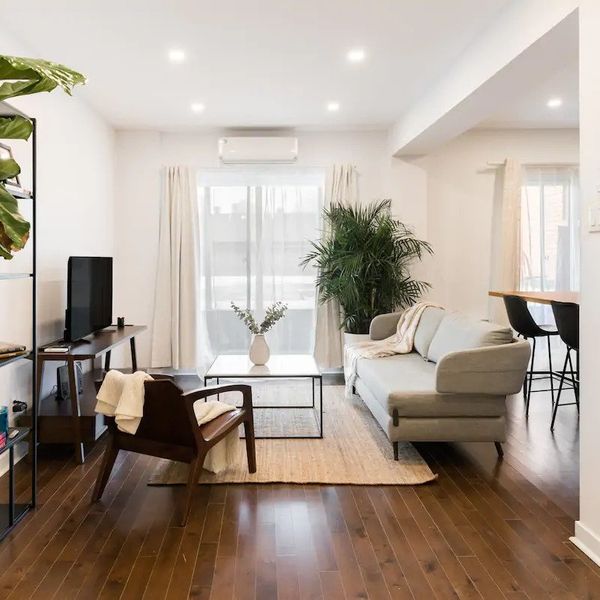 For a whirlwind work trip, Parniak also says this "compact, trendy space had everything needed to feel refreshed and settled." In the heart of Little Burgundy (adjacent to Little Italy), Parniak ate "some of the best cannoli and Italian pastries of [her] life" by walking just across the street. Nearby bottle shops sell what she calls a stellar selection of natural wine, and the Airbnb's rooftop porch at the back of the building was the perfect place to have a glass. "There was a certain relaxed vibe to the space that inspired me to form my own little rituals," Parniak says. "Even though I was only there for a few days, I felt completely at ease, as though I were in a temporary home."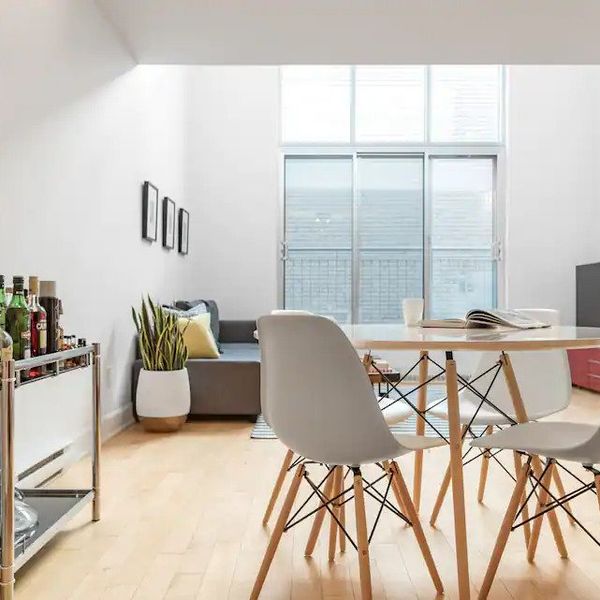 Allen Yee, partner at development and design studio Cloudred, says he'd "live in this Airbnb in a heartbeat," noting the lofted ceilings and modern bathroom. He says Le Plateau is the perfect neighborhood for those looking to skip Duolingo, go straight to the source, and "be immersed as much as possible" in a "pedestrian-friendly, charming" Francophone neighborhood. Yee spent his trip biking around Laurier Park and frequenting his "favorite bistro in North America," L'express. Most of all, contrary to Downtown or Gay Village, Yee emphasizes the quieter nightlife here. "I gravitated to it because it was more low-key — I don't do the crazy late nights that much anymore."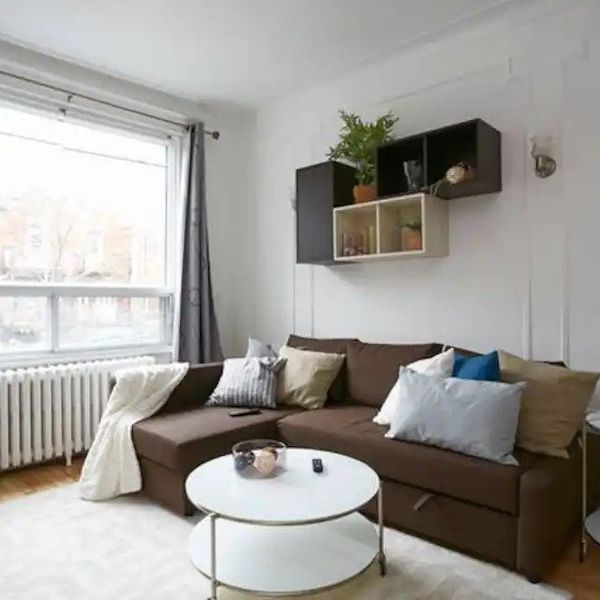 Abstract painter Andrei Petrov (his work has appeared in films and TV shows like The Royal Tenenbaums and The Morning Show) likes this simple Airbnb that's designed mainly for sleeping, but is surrounded by Montréal staples like St. Viateur Bagels and Bar Waverly. Petrov says he chose this particular spot for its "airy, sunny feeling, and the fact that there was room to do watercolors and have a coffee." He also likes the terrace overlooking Van Horne Street, which he says is the perfect spot for neighborhood people-watching.
The Strategist is designed to surface the most useful, expert recommendations for things to buy across the vast e-commerce landscape. Some of our latest conquests include the best acne treatments, rolling luggage, pillows for side sleepers, natural anxiety remedies, and bath towels. We update links when possible, but note that deals can expire and all prices are subject to change.
The COVID-19 situation there: Canada is open to fully vaccinated travelers from the United States. Anyone who has traveled to a select group of other countries within 14 days of entering Canada may be subject to quarantine upon arrival. The situation is changing frequently, so we recommend keeping an eye on the Government of Canada's travel guidelines.